Are you a Focus on Eye safety subscriber?
Focus on Eye Safety
Practice Safe Specs:.. Are you ready for Google Glass? Google has been working with eye doctors, frame manufacturers, and laboratories in the placement of their Google Glass device on traditional eyewear. How long will it be before one of your employees wishes to add this device to their safety eyewear? Only time will tell. But this device as it's now configured would not comply with either the ANSI standard for safety eyewear or be "acceptable" under OSHA's CFR 1910.132(d) as an add-on device. So we recommend you begin working on a Google Glass policy for your operations now.
Check your safety glasses regularly and report and damage to the frame or lenses immediately. Remember: Keep the snipe nose pliers and hair drier in the drawer. Please see us when we are on site to keep your safety glasses fitting comfortably and avoid unnecessary damage. We don't want your safety glasses to be featured in our Safety Hall of Fame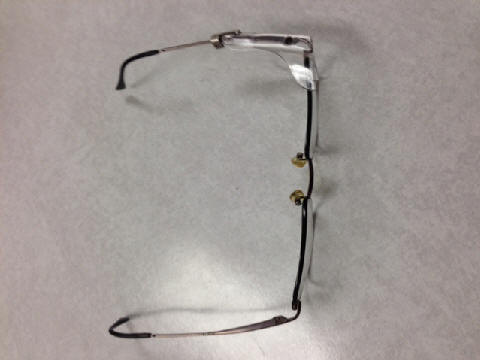 You can check out the new styles we've added including side shields that "breathe" here
Factors in the proper adjustment/alignment of safety eyewear

Typing Heaven? We have received more questions regarding standing computing and wish to share these five considerations:
A
nti-fatigue mat is a necessary addition to the employee workstation. Standing for prolonged periods demands a high amount of physical strength. The data I read shows the average work force employee is probably overweight and not exercising on a regular basis. A standing format would not be my recommendation for an employee who is pregnant.
The placement of the monitor's highest point is critical especially for any employee especially anyone shorter/taller than the 95th percentile and/or wears prescription progressive bifocals eyeglasses. Tipping the head either upwards or downward places stress on the neck, shoulders, and back.
The angle of the employee's elbows and wrists must be maintained in a neutral position or stress on the neck ,arms, shoulders, and back will result
Headsets or speaker phones! You want to avoid any phone cradling or any unnecessary reaching/bending to retrieve the phone
Wireless devices (mouse/keyboard) make the transition back and forth smoother and ensures proper placement of these devices.
Standing periodically throughout the work day is always a good thing. But I am not convinced that standing as a normal course of the work day is in the best interest of the employee or the business. Though standing desks have received quite the hype, research has shown that it greatly increases the risk of artery disease and varicose veins.
Eye Health = Eye Safety LED technology and retinal damage
The bright, unhealthy light emitted from digital media devices may be adversely affecting your eyes. High-energy visible (HEV) light, commonly referred to as blue light, can cause retinal cell damage and is being studied as a possible cause of macular degeneration. My office now offers Crizal Prevencia No-Glare lenses to protect your eyes:
Selectively filter out harmful light (Blue-Violet & UV)
Allow beneficial light to pass through (visible light, including Blue-Turquoise)
Maintain excellent transparency (clear No-Glare lens) for optimal vision at all times
LED technology in smart phones, tablets and other similar devices emits an intense bright, blue light. This distracting light causes other objects in your surrounding view to go in and out of focus. To correct this many of us will begin squinting. This is due in part because people tend to hold their mobile devices between two & nine inches closer to their eyes than they would printed reading material. The closer range causes strain on your eyes.
This is especially true for people who wear corrective eyewear or contact lenses. They are more likely to experience digital stress, as their prescription lenses may not have been designed for the mid-range distances of digital devices.
Please contact our office @ 708-686-5266 to learn how your eyes and safety glasses can start using Crizal Prevencia.
Prevent Blindness America has provided a state by state database of the population's eye disease. I have provided an overview of three states below.
Of particular interest is the data 3.9 million Americans reported having diabetes-related vision problems in 2010, up from 2.7 million in 1997 — an increase of 44 percent. There has been a significant increase in new cases of diabetes in the United States over the past decade. According to the United Health Foundation, diabetes affected 8.7 percent of the U.S. population in 2011 — a 42.6 percent increase since 2001.**
Estimated Number of Cases by Vision Problem Age ≥ 40
Total Population ≥ 40

5,823,399

Vision Impairment & Blindness

177,067

Blindness

56,149

Vision Impairment

120,919

Refractive Error

Myopia ≥ 1.0 diopters

1,397,613

Hyperopia ≥ 3.0 diopters

571,977

AMD*

87,312

Cataract

988,898

Diabetic Retinopathy

308,015

Glaucoma

113,626
Estimated Number of Cases by Vision Problem Age ≥ 40
Total Population ≥ 40

2,731,216

Vision Impairment & Blindness

87,698

Blindness

27,873

Vision Impairment

59,825

Refractive Error

Myopia ≥ 1.0 diopters

706,079

Hyperopia ≥ 3.0 diopters

290,869

AMD*

41,106

Cataract

483,032

Diabetic Retinopathy

137,532

Glaucoma

48,442
Estimated Number of Cases by Vision Problem Age ≥ 40
Total Population ≥ 40

9,591,550

Vision Impairment & Blindness

327,852

Blindness

96,029

Vision Impairment

231,823

Refractive Error

Myopia ≥ 1.0 diopters

2,148,126

Hyperopia ≥ 3.0 diopters

1,016,291

AMD*

158,032

Cataract

1,866,866

Diabetic Retinopathy

577,057

Glaucoma

202,123
---
The January 2013 issue of the Journal of Occupational and Environmental Medicine found workplace health promotion programs can reduce average worker health costs by 18 percent, and even more for older workers. We have Wellness programs to help you address these issues.
I provide this 25 unit lubricant @ $8.95. Please call my office to place your order.
Saving money ...... Did you know that your employees can use their health savings debit cards to purchase their personal eyewear at substantial savings through Vision Xperts?
Please call our office @ 708-686-5266 for the details
you can view our IPhone vision and safety application recommendations here
Vision Xperts
613 S. 2nd St. St. Charles, IL 60174 708-686-5266
duane@wecare4eyes.com