Are you a Focus on Eye safety subscriber?
Focus on Eye Safety
Practice Safe Specs:.. LED technology and retinal damage
The bright, unhealthy light emitted from digital media devices may be adversely affecting your eyes. High-energy visible (HEV) light, commonly referred to as blue light, can cause retinal cell damage and is being studied as a possible cause of macular degeneration. My office now offers Crizal Prevencia No-Glare lenses to protect your eyes:
Selectively filter out harmful light (Blue-Violet & UV)
Allow beneficial light to pass through (visible light, including Blue-Turquoise)
Maintain excellent transparency (clear No-Glare lens) for optimal vision at all times
LED technology in smart phones, tablets and other similar devices emits an intense bright, blue light. This distracting light causes other objects in your surrounding view to go in and out of focus. To correct this many of us will begin squinting. This is due in part because people tend to hold their mobile devices between two & nine inches closer to their eyes than they would printed reading material. The closer range causes strain on your eyes.
This is especially true for people who wear corrective eyewear or contact lenses. They are more likely to experience digital stress, as their prescription lenses may not have been designed for the mid-range distances of digital devices.
Please contact our office @ 708-686-5266 to learn how your eyes and safety glasses can start using Crizal Prevencia.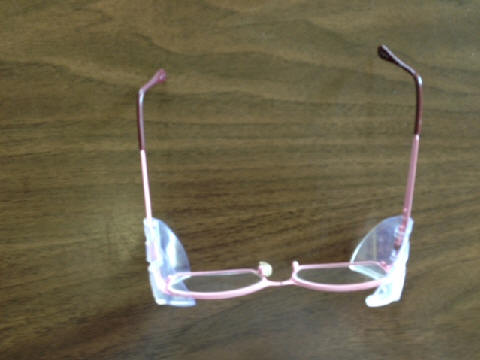 our latest inductee......
You can check out the new styles we've added including side shields that "breathe" here
Vision in the news:
Eye Drops Recall Occurring After Complaints of Mold ...
I

f you bought eye drops at CVS, Wal-Mart or Target, be sure to check the lot numbers to see if they're part of the recall. The eye drops were distributed between February 2012 and April 2013.
Train engineer's vision problems led to deadly Oklahoma wreck,

NTSB Investigators say a train engineer couldn't read key signals before an Oklahoma wreck that killed three last year.
New layer in human eye discovered Scientists have discovered a previously unknown layer lurking in the human eye.

The newfound body part, dubbed Dua's layer, is a skinny but tough structure measuring just 15 microns thick, where one micron is one-millionth of a meter and more than 25,000 microns equal an inch. It sits at the back of the cornea, the sensitive, transparent tissue at the very front of the

human eye

that helps to focus incoming light, researchers say.
Eye Health = Eye Safety
Vision plays a critical role in your employees' job performance and health. Whether your employee drives a company vehicle, assembles your product, or operates a computer; their eyes control their activity.
Prevent Blindness America has provided a state by state database of the population's eye disease. I have provided an overview of three states below.
Of particular interest is the data 3.9 million Americans reported having diabetes-related vision problems in 2010, up from 2.7 million in 1997 — an increase of 44 percent. There has been a significant increase in new cases of diabetes in the United States over the past decade. According to the United Health Foundation, diabetes affected 8.7 percent of the U.S. population in 2011 — a 42.6 percent increase since 2001.**
Estimated Number of Cases by Vision Problem Age ≥ 40
Total Population ≥ 40

5,823,399

Vision Impairment & Blindness

177,067

Blindness

56,149

Vision Impairment

120,919

Refractive Error

Myopia ≥ 1.0 diopters

1,397,613

Hyperopia ≥ 3.0 diopters

571,977

AMD*

87,312

Cataract

988,898

Diabetic Retinopathy

308,015

Glaucoma

113,626
Estimated Number of Cases by Vision Problem Age ≥ 40
Total Population ≥ 40

2,731,216

Vision Impairment & Blindness

87,698

Blindness

27,873

Vision Impairment

59,825

Refractive Error

Myopia ≥ 1.0 diopters

706,079

Hyperopia ≥ 3.0 diopters

290,869

AMD*

41,106

Cataract

483,032

Diabetic Retinopathy

137,532

Glaucoma

48,442
Estimated Number of Cases by Vision Problem Age ≥ 40
Total Population ≥ 40

9,591,550

Vision Impairment & Blindness

327,852

Blindness

96,029

Vision Impairment

231,823

Refractive Error

Myopia ≥ 1.0 diopters

2,148,126

Hyperopia ≥ 3.0 diopters

1,016,291

AMD*

158,032

Cataract

1,866,866

Diabetic Retinopathy

577,057

Glaucoma

202,123
---
Computer Ergonomics: coworker advice and "googling" can lead you to make changes in how you use your body when operating your computer. Here are 5 mistakes to avoid when addressing your personal computer ergonomics.
Mistake No. 1: Ignoring ergonomics
When we sat down that 1st time in our office or work station; did your supervisor provide an ergonomic guideline to stay healthy and avoid injuries? Probably not. Bad physical
effects of an improper work station setup can be rectified and usually your body will favorably respond. But the physical effects can be permanent and linger throughout your life. Here is a basic guideline to help you get started
Ignore ergonomics and you risk suffering eyestrain and injuries to your neck, back, hands, arms
Mistake No. 2: 'ergonomic'
products The latest and greatest wrist rest, keyboards, modernistic chairs, and input devices from the movies while slick looking aren't always the answer. These devices may promise the solution to a comfortable work life. But what is the industry standard for what is labeled ergonomic?
Mistake No. 3: Ignoring early warning signs
We often dismiss our physical complaints when we work a "desk" job. Remember: Pain is the body's way of telling you something is not right. Repetitive stress injuries are cumulative. They don't just happen one day. Instead of taking a pain pill or struggling each day, consult a professional.
Mistake No. 4: Attracted to nontraditional desks
R
ecently in the press there has been a lot of what I call "hype" regarding standing while using a computer. You might have seen a news report or read an article in popular news outlets about stand-up desks and treadmill desks
I am sorry to disappoint you; but there's no magic bullet. Though standing desks have received quite the hype, research has shown that it greatly increases the risk of artery disease and varicose veins. Fine detailed work usually demands sitting. We recommend that you structure your work day to include micro breaks which provide you the opportunity to get up out of your chair
Mistake No. 5: All you need is ergonomics
Even if your work station setup is picture perfect, the human body has not evolved so you can sit for 8 or more hours each day. Prolonged sitting has been proven to adversely effect us. So get up and talk to coworkers instead of an email, stand while taking phone calls, and please don't eat your lunch at your desk
OSHA UPDATE The Labor Department's Employee Benefits Security Administration on May 29 joined the departments of Health and Human Services and Treasury in announcing the publication of final rules related to employment-based wellness programs. These rules represent the latest step in implementing the Affordable Care Act.
Is your office planning a health fair to reduce health care costs and injuries?
Do your employees complain of digital fatigue and ergonomic issues?
Is a training update in the works to address contact lenses in the workplace and PPE compliance?
We have Wellness programs to help you address these issues. The January 2013 issue of the Journal of Occupational and Environmental Medicine found workplace health promotion programs can reduce average worker health costs by 18 percent, and even more for older workers.
Dry eye for workers can have long term damaging effects. I provide this 25 unit lubricant @ $8.95. Please call my office to place your order.
Saving money ...... Did you know that your employees can use their health savings debit cards to purchase their personal eyewear at substantial savings through Vision Xperts?
Please call our office @ 708-686-5266 for the details
you can view our IPhone vision and safety application recommendations here
Vision Xperts
613 S. 2nd St. St. Charles, IL 60174 708-686-5266
duane@wecare4eyes.com