On-Site Safety Wellness Programs
A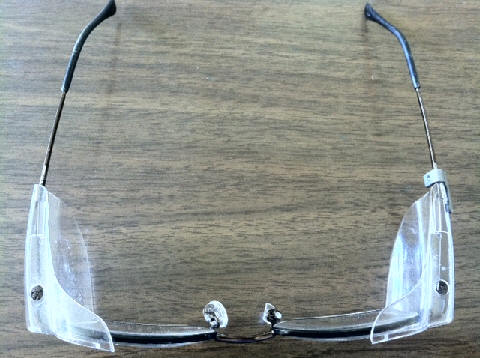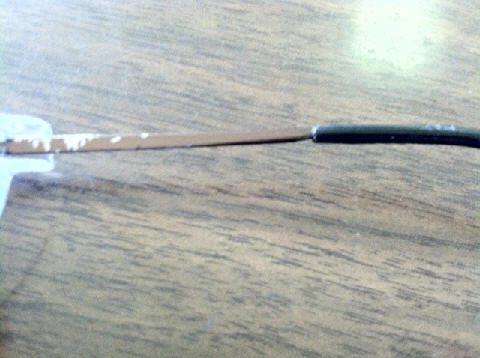 B
Why do eye injuries still happen?
I believe the injuries can be traced to gaps in protection. These gaps are the result of safety glasses that are out of position, eye protection which does not fit snuggly against the facial features, side shields missing or used on dress eyewear, and uncomfortable frames are not worn continuously. Safety glasses are removed regularly throughout the work day for the lenses become more soiled from perspiration and environmental debris. If the safety glasses are removed with one hand as is common practice the frame gradually becomes loose and out of alignment: gap in protection occurs.
Example A above is an actual prescription safety frame well out of standard adjustment/alignment and illustrates when worn will have openings for debris and splashes to enter the eye. The broken nose pad on the right only adds to improper fit but also interferes with the prescription accuracy. And definitely is uncomfortable to wear for 8 hours.
Example B is an actual metal safety frame whose surface has been worn off due to age. In my experience as a standard nickel metal frame enters it's third year it is not uncommon for the finish to lose it's integrity. The finish will actually become "sandpaper" rough and can irritate the skin as the frame is worn. Eyewear which irritates is removed more often and it's not in the break room but in the work environment: gap in protection occurs.
One size fits all non-prescription safety eyewear is designed to fit an average adult. But as this chart points out; today's workforce is diverse and what fits an average US male and female is not going to be properly secure for either whose origins are from Mexico or India. If one size fits all Plano eyewear is worn over dress eyewear protection gaps increase not to mention raise the issue of "comfort"
For maximum eye protection only ANSI approved eyewear with the manufacturer's matching side shields should be used in a work environment. In my opinion universal side shields do not fit frames as precisely as the manufacturers creating a gap in protection. Side shields should never be used on dress eyewear which does not comply with the ANSI -Z87 2010 standard. And common sense tells you if the side shields are not used: gap in protection occurs
To prevent your employees becoming one of the 547 workers suffering an eye injury every day:
please have your employee report any discomfort associated with their safety eyewear
replace old or worn frames and side shields
in your PPE training review proper doffing/donning techniques and proper maintenance for safety eyewear
as part of your safety training include a segment addressing eye safety as we cover in our Wellness Programs
utilize prescription safety eyewear instead of over the eyeglasses PPE
have your employees visit with us whenever we are on site so their eyewear can be properly adjusted and realigned.
As your partner in employee eye protection we'll work together with you to prevent eye injuries
Vision Xperts 613 S. 2nd St., St. Charles, IL 60174
We make house calls for safety eyewear, computer ergonomics, wellness programs
708-686-5266 fax: 630-443-4823 www.wecare4eyes.com